Within the lore and history of actual sightings of mermaids and various merbeings all over the world, these creatures have come in a surprisingly wide array of forms. There are the beautiful maidens of legend with their flowing hair and fishtails, the more ape-like fish beasts of other traditions, and pretty much everything in between. Many regions of Africa have a rich tradition of mermaids, particularly in the southern portion of the continent.
At once beautiful, protective, seductive, and dangerous, the water spirit Mami Wata (Mother Water) is celebrated throughout much of Africa and the African Atlantic. A rich array of arts surrounds her, as well as a host of other aquatic spirits–all honoring the essential, sacred nature of water. Mami Wata is often portrayed as a mermaid, a snake charmer, or a combination of both. She is widely believed to have "overseas" origins, and her depictions have been profoundly influenced by representations of ancient, indigenous African water spirits, European mermaids, Hindu gods and goddesses, and Christian and Muslim saints. She is not only sexy, jealous, and beguiling but also exists in the plural, as the mami watas and papi watas who comprise part of the vast and uncountable "school" of African water spirits.
Mami Wata's presence is pervasive partly because she can bring good fortune in the form of money. As a "capitalist" deity par excellence, her persona developed between the fifteenth and twentieth centuries, the era of growing trade between Africa and the rest of the world. Her very name, which may be translated as "Mother Water," is pidgin English, a language developed to facilitate trade. Countless enslaved Africans forcibly brought to the Americas as part of this "trade" carried with them their beliefs, practices, and arts honoring water spirits such as Mami Wata. Reestablished, revisualized, and revitalized in the African Atlantic, Mami Wata emerged in new communities and under different guises, among them Lasirèn, Yemanja, Santa Marta la Dominadora, and Oxum. African–based faiths honoring these manifestations of Mami Wata continue to flourish in communities throughout the Americas, including Haiti, Brazil, and the Dominican Republic.
The appearance of her hair ranges from straight, curly to kinky black and combed straight back. Incorrectly, mostly western sources have suggested the name "Mami Wata" is pidgin English for "Mother Water". This is impossible as the deities existed in Africa long before colonization on the continent allowed English to infiltrate. The Mami Wata name is Ethiopian and Egyptian in origin and is linked to ancient African culture, spiritual belief systems, and folklore. The Ethiopian words "mama" indicated wisdom or truth while "uat-ur" meant ocean water. Additionally, in some early languages of the Sudan "wata" referred to a woman. Commonly thought to be a single entity, the term actually refers to a pantheon of African water deities. These African cultures were matriarchal and though "Mami Wata" can refer to males and females, they are most typically thought of as feminine and often take on a female form in art.
Mami Wata is often described as a mermaid-like figure, with a woman's upper body (often nude) and the hindquarters of a fish or serpent. In other tales, Mami Wata is fully human in appearance (though never human). The existence and spiritual importance of Mami Wata is deeply rooted in the ancient tradition and mythology of the coastal southeastern Nigerians (Efik, Ibibio and Annang people). Mami Wata often carries expensive baubles such as combs, mirrors, and watches. A large snake (symbol of divination and divinity) frequently accompanies her, wrapping itself around her and laying its head between her breasts.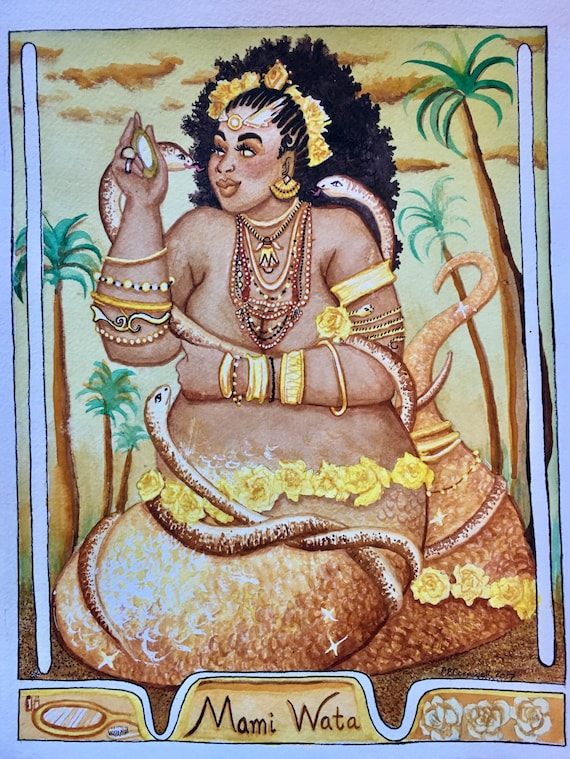 Other times, she may try to pass as completely human, wandering busy markets or patronising bars. She may also manifest in a number of other forms, including as a man. Traders in the 20th century carried similar beliefs with them from Senegal to as far as Zambia. As the Mami Wata traditions continued to re-emerge, native water deities were subsumed into it. Traditions on both sides of the Atlantic tell of the spirit abducting her followers or random people whilst they are swimming or boating. She brings them to her paradisiacal realm, which may be underwater, in the spirit world, or both. Should she allow them to leave, the travellers usually return in dry clothing and with a new spiritual understanding reflected in their gaze. These returnees often grow wealthier, more attractive, and more easygoing after the encounter.
Mami Wata's association with sex and lust is somewhat paradoxically linked to one with fidelity. According to a Nigerian tradition, male followers may encounter the spirit in the guise of a beautiful, sexually promiscuous woman, such as a prostitute. In Nigerian popular stories, Mami Wata may seduce a favoured male devotee and then show herself to him following coitus. She then demands his complete sexual faithfulness and secrecy about the matter. Acceptance means wealth and fortune; rejection spells the ruin of his family, finances, and job.
Another prominent aspect of the Mami Wata deities is their connection to healing. If someone comes down with an incurable, languorous illness, Mami Wata often takes the blame. The illness is evidence that Mami Wata has taken an interest in the afflicted person and that only she can cure him or her. Similarly, several other ailments may be attributed to the water spirit. In Nigeria, for example, she takes the blame for everything from headaches to sterility. In fact, barren mothers often call upon the spirit to cure their affliction. Many traditions hold that Mami Wata herself is barren, so if she gives a woman a child, that woman inherently becomes more distanced from the spirit's true nature. The woman will thus be less likely to become wealthy or attractive through her devotion to Mami Wata. Images of women with children often decorate shrines to the spirit.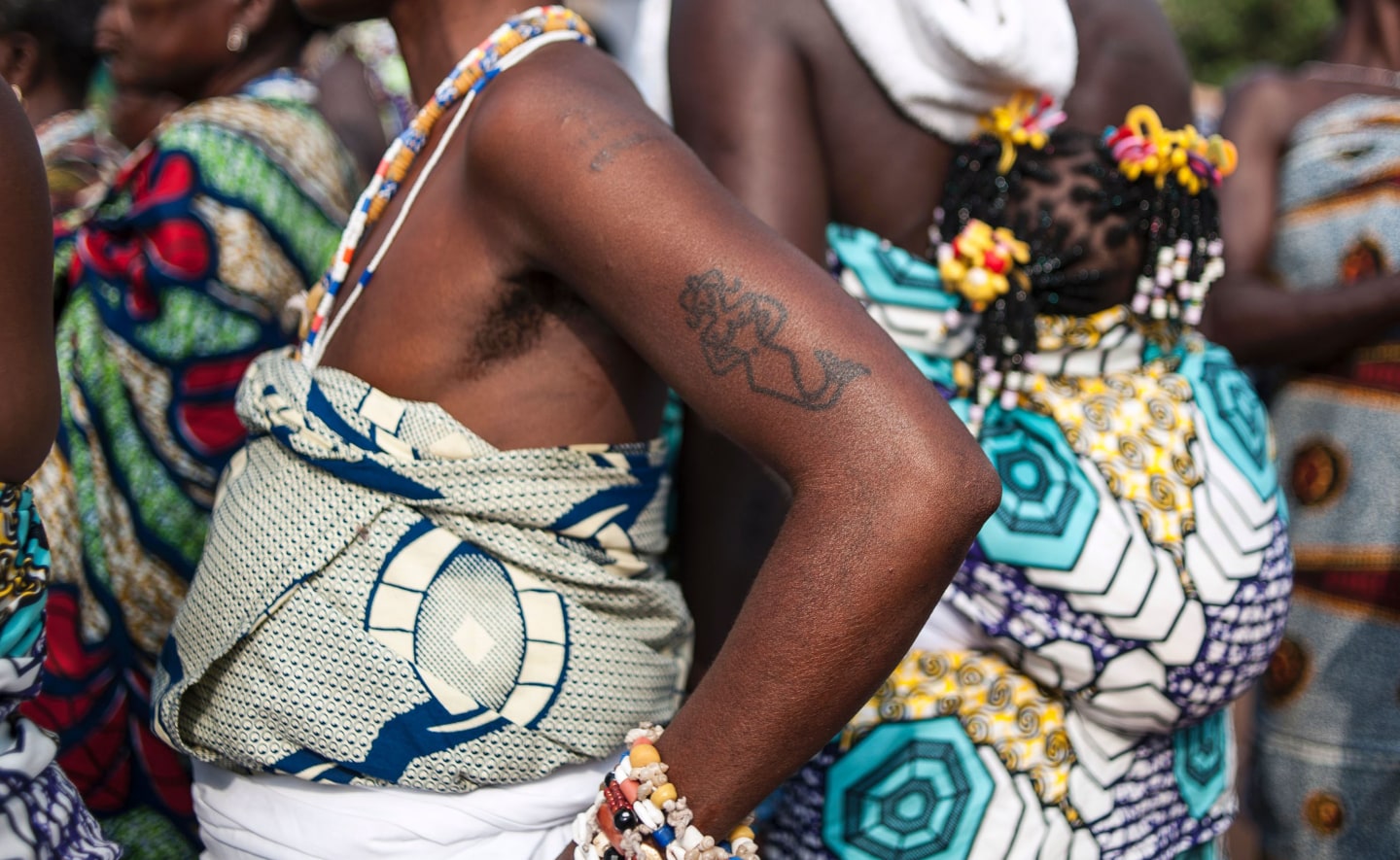 You can Donate to keep African Explorer Magazine running: