If We Must Die
BY CLAUDE MCKAY
If we must die, let it not be like hogs
Hunted and penned in an inglorious spot,
While round us bark the mad and hungry dogs,
Making their mock at our accursèd lot.
If we must die, O let us nobly die,
So that our precious blood may not be shed
In vain; then even the monsters we defy
Shall be constrained to honor us though dead!
O kinsmen! we must meet the common foe!
Though far outnumbered let us show us brave,
And for their thousand blows deal one death-blow!
What though before us lies the open grave?
Like men we'll face the murderous, cowardly pack,
Pressed to the wall, dying, but fighting back!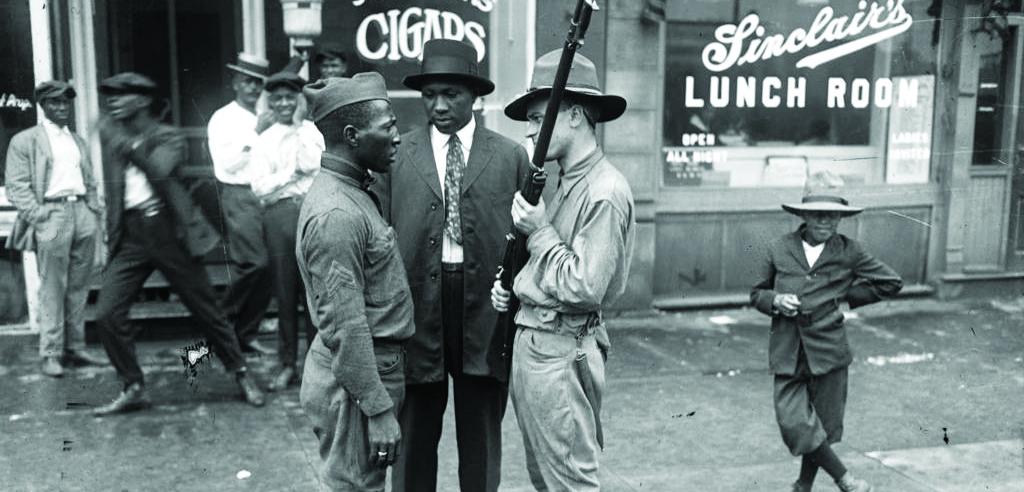 In 1919, the United States experienced a wave of violence and race riots against the African-American community called the Red Summer of 1919. In response to this, Claude McKay wrote his poem If WeMust Die. His poem's speaker encourages his allies to not stand by while in battle, but to fight back.
In most instances, whites attacked African Americans. In some cases many black people fought back, notably in Chicago and Washington, D.C. The highest number of fatalities occurred in the rural area around Elaine, Arkansas, where an estimated 100–240 black people, and five white people, were killed; Chicago and Washington, D.C. had 38 and 15 deaths, respectively, and many more injured, with extensive property damage in Chicago.
was a seminal figure in the Harlem Renaissance. He wrote four novels: Home to Harlem (1928), a best-seller that won the Harmon Gold Award for Literature, Banjo (1929), Banana Bottom (1933), and in 1941 a manuscript called Amiable With Big Teeth: A Novel of the Love Affair Between the Communists and the Poor Black Sheep of Harlem which remained unpublished until 2017. McKay also authored collections of poetry, a collection of short stories, Amiable With Big Teeth: A Novel of the Love Affair Between the Communists and the Poor Black Sheep of Harlem  two autobiographical books, A Long Way from Home (1937) and My Green Hills of Jamaica (published posthumously), and a non-fiction, socio-historical treatise entitled Harlem: Negro Metropolis (1940). His 1922 poetry collection, Harlem Shadows, was among the first books published during the Harlem Renaissance. His Selected Poems was published posthumously, in 1953.
In 1906 Claude McKay decided to enter a trade school, but when the school was destroyed by an earthquake he became apprenticed to a carriage and cabinetmaker; a brief period in the constabulary followed. In 1907 McKay came to the attention of Walter Jekyll, an English gentleman residing in Jamaica who became his mentor, encouraging him to write dialect verse. Jekyll later set some of McKay's verse to music. By the time he immigrated to the United States in 1912, McKay had established himself as a poet, publishing two volumes of dialect verse, Songs of Jamaica (1912) and Constab Ballads (1912).
McKay left for the U.S. in 1912 to attend Tuskegee Institute. McKay was shocked by the intense racism he encountered when he arrived in Charleston, South Carolina, where many public facilities were segregated; this inspired him to write more poetry. At Tuskegee, he disliked the "semi-military, machine-like existence there" and quickly left to study at Kansas State University. At Kansas State, he read W. E. B. Du Bois' Souls of Black Folk, which had a major impact on him and stirred his political involvement. But despite superior academic performance, in 1914 McKay decided he did not want to be an agronomist and moved to New York City, where he married his childhood sweetheart Eulalie Lewars.
McKay was attracted to communism in his early life, but he always asserted that he never became an official member of the Communist Party USA. However, some scholars dispute that claim, noting his close ties to active members, his attendance at communist-led events, and his months-long stay in the Soviet Union in 1922–23, which he wrote about very favorably. He gradually became disillusioned with communism, however, and by the mid-1930s had begun to write negatively about it. By the late 1930s his anti-Stalinism isolated him from other Harlem intellectuals, and by 1942 he converted to Catholicism and left Harlem, and he worked for a Catholic organization until his death.