Evidence which shows that ancient Egyptians had already crossed the Atlantic 3,000 years ago, long before Columbus in 1492, comes not only from the mimicking of cultural traditions as seen in Peru and the Canary Islands where evidence of trepanning and mummification has been found, but from the actual Egyptian mummies themselves. Incredibly, in 1976, Dr. Michelle Lescott from the Museum of Natural History in Paris received a sample from the mummified remains of Egyptian Pharaoh Ramses the Great to study. Using an electron microscope, she discovered grains of tobacco clinging to the fibers of his bandages.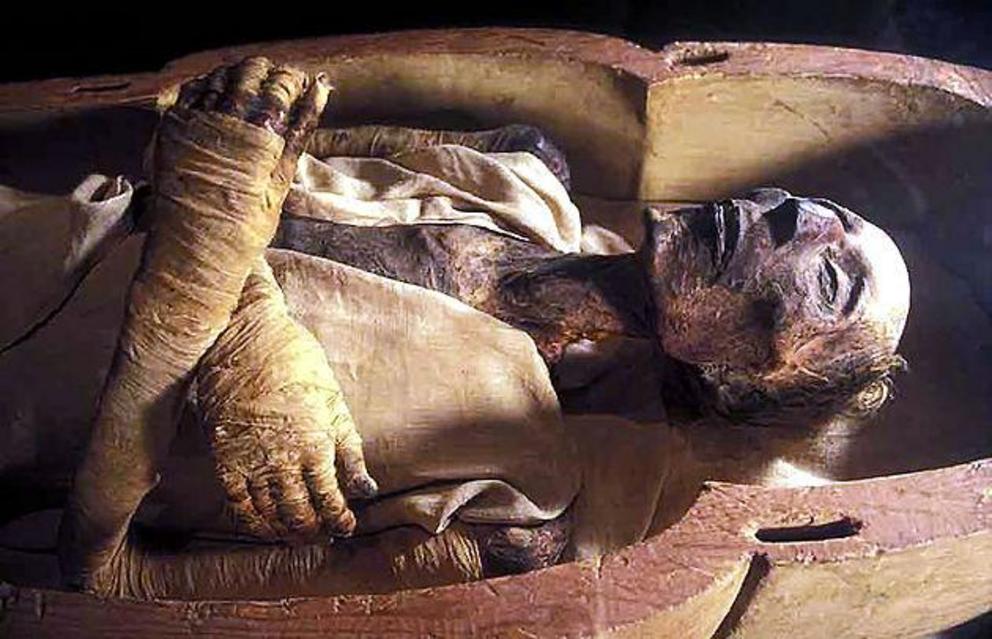 ​​This initial discovery was berated by the authorities and her senior colleagues insisted that she had simply observed "contamination from modern sources", maybe from some old archaeologist smoking a pipe in the vicinity, or perhaps she had found the traces of a workman's sneeze? Tobacco first came to Europe from South America during the time of Columbus, 2700 years later, ruling out the possibility of tobacco being present during the reign of Ramses circa 1213 BC.
Some years later, Dr. Svelta Balabanova, a forensic toxologist at the Institute of Forensic Medicine at ULM, followed up on Dr. Lescott's findings with yet more intriguing evidence. In order to eliminate the possibility of contemporary contamination, Dr. Balabanova obtained samples of intestinal tissue from deep inside Ramses, rather than the external layers of skin and cloth, and much to her amazement she discovered traces of cannabis, coca and tobacco laid down in his body cells 'like rings on a tree'.
For her fellow researchers this still was not enough proof despite her excellent reputation, as such evidence contradicted conventional explanations of intercontinental contact thousands of years in the past. But, a decade later in 1992, seven ancient Egyptian mummies were flown from the Cairo Museum to Munich for further analysis. Dr. Balabanova conducted a series of gas chromatography tests on samples of the seven mummies, one of which was the mummified remains of Henut Taui, 'the lady of the two lands', a priestess who lived sometime during the reign of the 21st Dynasty of ancient Egypt around 1000 BC. Each individual revealed the presence of nicotine and cocaine, and both the mummies and the results were deemed entirely credible.
Professor Martin Bernal, a historian at Cornell University, is one of many scholars who conceded that ancient trade links which vastly predate present calculations must have existed; 'We're getting more and more evidence of world trade at an earlier stage.'