Most of the Khoikhoi myths and legends have a solar and celestial bias like those of the Bushmen. The name of the Khoikhoi deity and supreme being in Khoikhoi folk lore is Tsui-Goab. To him they ascribe the the creation of the world, of man, and the elements. It is he that makes their crops prosper and gives them skins, full bellies and happy hearts. His opposite is Gaunab, a kind of vengeful devil.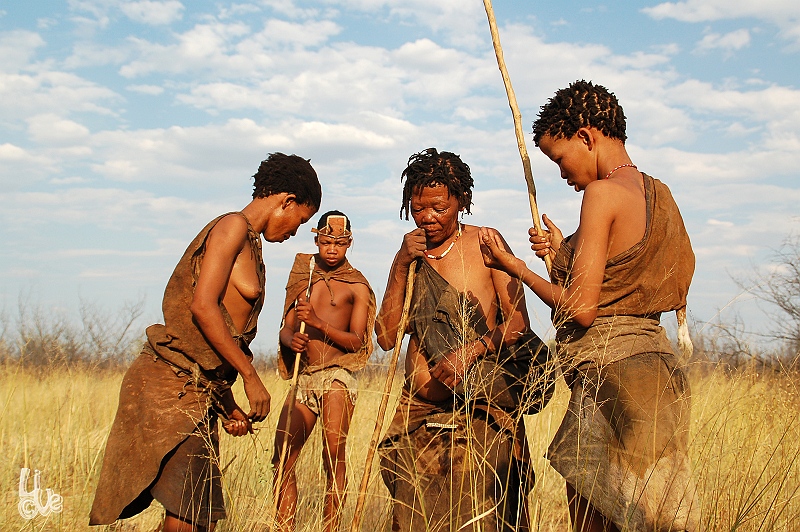 This very same Tsui-Goab, the supreme being of the Khoikhoi, is the subject of the strangest of stories. In one of this stories he said to be a brave khoikhoi man who was worried for his people as there was nothing to eat during a prolonged drought. One day a stranger in long robe and a hood came to the village, he knocked on the door of one of the village elders who was very week and he found Tsui-Goab seated at the man's bedside praying for his life. Tsui-Goab could see the stranger was strong and well fed, and he began to ask questions, " Was there drought where the stranger came from, had he seen death in his travels?" From his questions he realized the stranger must be Gaunab the spirit of death in human form.
That gave him an idea, he challenged Gaunab to a fair fight if he won Gaunab would leave forever giving his people eternal life in the face of drought, if gaunab won he could spread death in the village, he could even take them all at once if he pleased. At first Gaunab did not think much about this challenge, when Tsui-Guab said he trusted him to fight fairly Gaunab accepted as he had never been trusted before. As the news spread the villagers came to see the match. At first they were evenly matched, for days they wrestled, and finally Tsui-Guab threw Gaunab to the ground and declared himself winner. Gaunab was stunned and angry for it was the first time he had ever lost, he lashed out and struck Tsui-Guab on the knee, screaming and crumbling to the ground, Tsui-Guab clutched his knee and fainted.
When he woke up everything was black, the villagers were discussing what he had done and how he should be rewarded he was hovering in the air and the village was far below. he stretched out his arm and drops of rain trickled from his fingers. He stretched out his other hand a stream of rain poured down from that hand. the water soaked into the Earth making the fields green. The villagers danced in the rain their faces staring up at the cloud that Tsui-Guab had become, his heart was filled with joy as the villagers sung their thanks to their new Rain God, for their life saving water.
(Below is a video with this Amazing story courtesy of The Home Team on YouTube follow this link https://www.youtube.com/channel/UC12lU5ymIvSpgl8KntDQUQA for amazing stories like the one above.)