Timbuktu is a city in the Western African country of Mali, historically important as a trading post on the trans-Saharan caravan route and as a center of Islamic culture (c. 1400–1600). It is located on the southern edge of the Sahara, about 8 miles (13 km) north of the Niger River. The city was designated a UNESCO World Heritage site in 1988. In 2012, in response to armed conflict in the region, Timbuktu was added to the UNESCO List of World Heritage in Danger.
Timbuktu was founded about 1100 CE as a seasonal camp by Tuareg nomads. There are several stories concerning the derivation of the city's name. According to one tradition, Timbuktu was named for an old woman left to oversee the camp while the Tuareg roamed the Sahara. Her name (variously given as Tomboutou, Timbuktu, or Buctoo) meant "mother with a large navel," possibly describing an umbilical hernia or other such physical malady. Timbuktu's location at the meeting point of desert and water made it an ideal trading centre. In the late 13th or early 14th century it was incorporated into the Mali empire.
After his return from Mecca, Mansa Musa began to revitalize cities in his kingdom. He built mosques and large public buildings in cities like Gao and, most famously, Timbuktu. Timbuktu became a major Islamic university center during the 14th century due to Mansa Musa's developments. Mansa Musa brought architects and scholars from across the Islamic world into his kingdom, and the reputation of the Mali kingdom grew. The kingdom of Mali reached its greatest extent around the same time, a bustling, wealthy kingdom thanks to Mansa Musa's expansion and administration.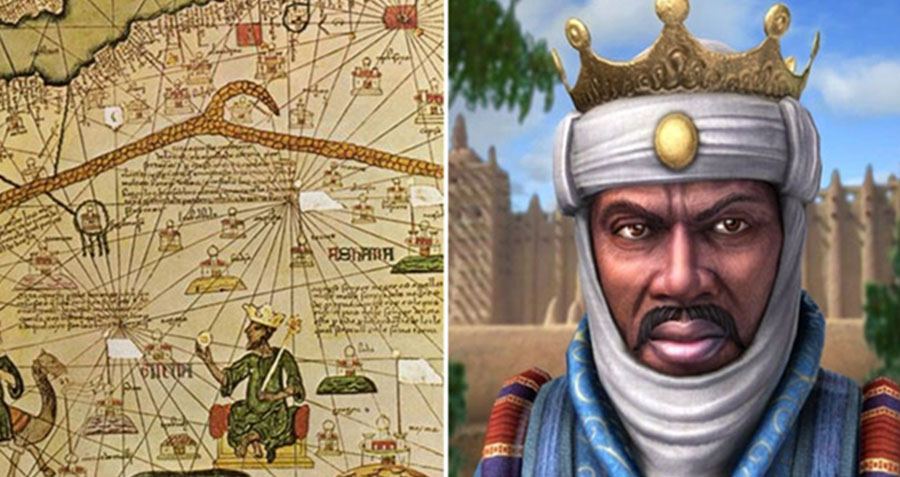 The wealth and very existence of Timbuktu depended on its position as the southern terminus of an important trans-Saharan trade route; nowadays, the only goods that are routinely transported across the desert are slabs of rock salt brought from the Taoudenni Mining Centre in the central Sahara 664 km (413 mi) north of Timbuktu. Until the second half of the 20th century most of the slabs were transported by large salt caravans or azalai, one leaving Timbuktu in early November and the other in late March.
The caravans of several thousand camels took three weeks each way, transporting food to the miners and returning with each camel loaded with four or five 30 kg (66 lb) slabs of salt. The salt transport was largely controlled by the desert nomads of the Arabic-speaking Berabich (or Barabish) tribe. Although there are no roads, the slabs of salt are now usually transported from Taoudenni by truck. From Timbuktu the salt is transported by boat to other towns in Mali. Between the 12th and 14th centuries, Timbuktu's population grew immensely due to an influx of Bono, Tuaregs, Fulanis, and Songhais seeking trade, security, or to study. By 1300, the population increased to 10,000 and continued increasing until it reached about 50,000 in the 1500s.
The University of Timbuktu was unlike the modern university in that there was no central organization or formal course of study. Instead, there were several independent schools, each having its own principal instructor. Students chose their teachers, and instruction took place in mosque courtyards or private residences. The primary focus was on study of the Quran and Islamic subjects, but academic subjects were also taught, such as "medicine and surgery, anatomy, botany, evolution, physiology and zoology, astronomy, anthropology, cartography, geodesy, geology, mathematics, physics, chemistry, philosophy, language and linguistics, geography, history, as well as art. Teachers associated with the Sankore mosque and the mosque itself were especially respected for learning. It boasted up to 25,000 students out of a total city population of 100,000. Noted scholars associated with the institution include:
Mohammed Bagayogo (1523-1593), associated with the Sankore masajid
Ahmad Baba al Massufi (1556-1627), a student of Mohammed Bagayogo and the author of more than 40 books; deported to Morocco in 1594
Timbuktu remains a pillar in Ancient African studies and it's mistique and heritage keeps it's flag flying high.